Gear Review: Exped Black Ice 55L
By: Jere Burrell, Pro Guiding Service Guide
-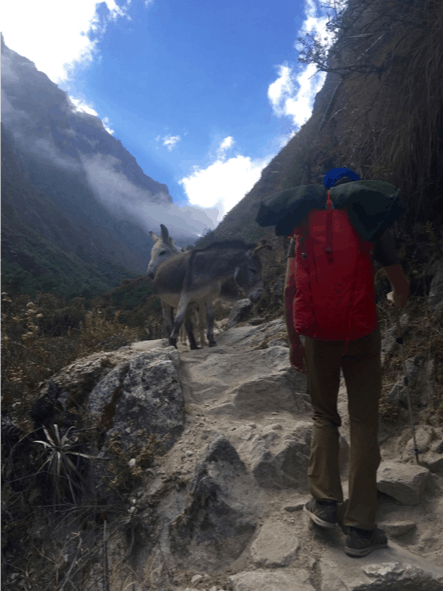 Walking into the Cordillera Blanca with the Donkeys and Black Ice 55L. Photo: Paul Barish
The snow on the glaciers was still thick and the days were still growing longer. My spring schedule had filled with multi-day ski trips and summit climbs on Mount Baker. This time of the year was typical, and we received our share of rain, snow, and over all wet conditions. As we transitioned from spring to summer my instructional courses and shred trips on Baker moved to summit climbs in the southern complex of North Cascades National Park. By then the wet spring weather had become a distant memory as we sweltered in the hot, dry, and smoky summer haze. Along the way the Exped Black Ice 55 Liter was my go to pack on shred and send trips up to 6 days in length.
Material
The Black Ice surviving the snow at the 16,500' moraine camp on Artesonraju Photo: Jere Burrell
When the Black Ice showed up in the spring at Pro Guiding Service I was stoked to see its waterproof design. After spending over a decade guiding big whitewater, I immediately recognized the benefits this pack would have in the commonly wet North Cascades. In a classic dry bag design this pack is made of an ultra durable but light weight TPU Laminated HD Ripstop with a large opening on the roll top closure. The functionality here is top notch. The roll top secures with either 2 small carabiners that clip to daisy chain style loops down the side of the pack, or with larger loads that fill the pack, you can get a couple rolls in, bring the ends together, and clip them with a separate male/female style plastic plug and pinch buckle. During the spring with our cooler wet weather I felt 100% comfortable leaving my pack rolled up laying outside the tent vestibule to keep space open for boots and stoves. Never once did any gear get wet inside.
Compartments
In order to ensure waterproof performance, the packs design has one large 55-liter tapered funnel shaped compartment, a small external waterproof zippered pocket, and a small internal pocket. In addition, a frameless design keeps the empty pack weight down, but with a removable ultra-lightweight PE foam board it supports pack weight surprisingly well. No flaps, no draw cord openings, no brain. Using a classic brick and mortar packing style, I was able to stuff small soft items such as shirts and extra socks around medium sized hard items like a stove and fuel cans into the large main compartment. This would provide plenty of space for 6 days of gear on summer alpine climbing trips into Boston Basin and for as many days on splitboard mountaineering trips on Mount Shuksan.
The external waterproof zippered pocket has enough space for several small items such as a couple snack bars, map and compass, and the always critical blue bag. Over stuffing the zippered pocket could create a possible weak point in the waterproof performance of this pack fortunately the inside of the pocket is made of the same TPU laminated HD Ripstop so the inside of the pack will remain dry and protected if this were to happen.
Meanwhile the internal pocket offers a little organization for a few items such as more snack bars, a spare battery pack, and a bottle of sunscreen. After the main compartment is packed with all my gear this pocket becomes difficult to access. Another option is using the internal pocket to hold a 1.5 liter hydration bag or dromedary but there is no hydration tube port to the outside of the pack.The simple waterproof tunnel design is effective but has limited organization options. A simple solution I have come up with is a small stuff sack for my regularly used items such as lip balm, sunscreen, tooth brush, and more snacks, that sits on top of my gear in the main compartment.
Compression and Extension
This pack is a stout 55 liters, large enough to carry enough gear for 5 or more days into Boston Basin in the North Cascades. But when it's time to climb the West Ridge of Forbidden the Black Ice rolls down small. Even though there aren't any integrated compression straps the pack rolls down tight enough to climb like a small summit pack while still maintaining space for a day's worth of climbing gear.
The roll top strap and side strap pad with daisy chains. Walking out to Cashapampa. Photo: Paul Barish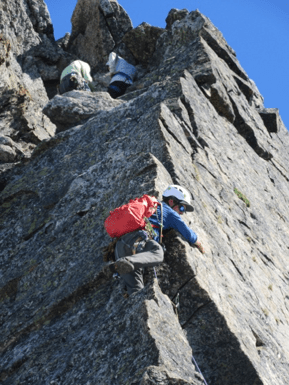 The almost empty pack is super compact on 5th class climbing. Photo: Fred and Bob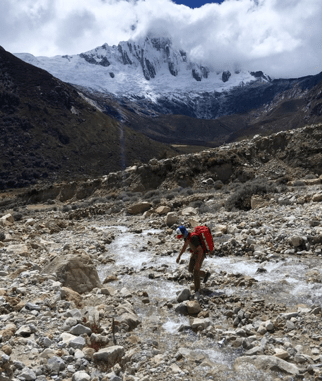 A decently large load on an acclimatization gear shuttle to 16,500' on Artensonraju
Straps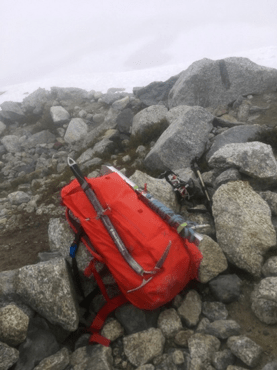 The pack about ready to climb from the upper bivy in Boston Basin. Ice axe and picket attached. Photo: Jere Burrell
Straps, what straps! This super slim, low profile pack allows a variety of strapping options for those must carry on the outside pieces of equipment. Additionally, low profile shoulder and waist straps provide just enough padding and weight distribution to carry the large loads. While any extra tail length rolls conveniently into velcro closures on the end of the adjustment straps.
First, this pack comes with removable compression style straps that allow custom arrangement on the 4 daisy chain loops running down the back and sides of the pack. Along with an adjustable over the top strap for a variety of arrangements. If you're carrying a splitboard in "A" frame position or diagonal there are solutions, if you need to attach a rope on the outside there are solutions, snow picket access just clip it, crampons on the outside no problem. If you're going for a day hike, remove all the straps and have a stream line pack that won't snag on the drooping doug firs.
Next, the low-profile shoulder straps are padded and wide enough to distribute the fully loaded weight of a 55 Liter pack while maintaining low bulk and avoiding sponge like affect in wet conditions. At first, I was concerned with the padding packing out, but after a full summer of heavy loads this hasn't happened. The floating sternum strap adjusts up and down easily and for my body shape and size I found the range to be a little limiting but still functions nicely.
In order to carry a big pack comfortably Exped used a removable seat belt style waist belt that connects with a coin and slot buckle. This modern buckle style is easy to use in the snow with gloves, so no snow clogging pinch to
unplug buckle. The female coin slot piece is plastic while the male coin piece is aluminum. Throughout the summer I have seen noticeable wear on the plastic piece. It seems durable enough in materials and design to withstand being crushed if it gets stepped on. Thus, more durable than a typical pinch and plug buckle but it has seen more wear than the aluminum component. Adjusting the buckle is easy as long as I adjust the metal coin, left side first, then after clipping the buckle tighten the plastic slot from the right side. I haven't removed the belt to climb yet and in fact I prefer moving through vertical terrain with the belt buckled so my pack moves with me and doesn't sway. But for those who prefer otherwise the belt can be removed easily and stored at camp or in the pack while scrambling, climbing, or sending.
Lastly, the pack easily carries an ice axe or two ice tools with a traditional loop and flip design for the head and a fish hook shaped shock cord toggle tightener to snug the shaft in place. Another design consideration I really liked is the large grab loop handle behind your head. This handle not only makes moving the bag around easy but when transitioning from ice axe use in moderate to steep snow couloirs this handle doubles as a behind the back and head, ice axe quick storage for a He Man, ninja sword, quick stow and retrieve security loop.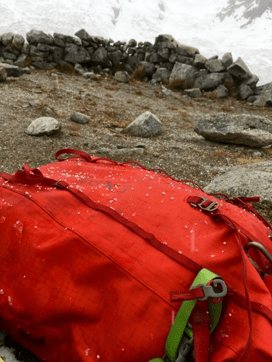 Fish hook ice axe clips, flip loops, and daisy chains Photo: Jere Burrell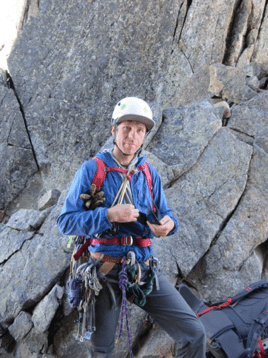 A geared up author prepared to climb Sharkfin Tower. Showing the sternum strap and waist buckle. Photo: Fred & Bob
From Cascade deluges of rain and Andean snow squalls this pack has kept my gear dry all summer. Alpine climbing up steep snow couloirs, across classic rock ridges, down long gully rappels, and across broken glaciers to getting shoved under the back seat of a mini bus by an anxious driver in Caraz, this thing has held up incredibly well. Over all this pack has surpassed my expectations being able to adapt to any style I decide to use it. And seeing how it has survived a spring and summer of heavy use during work and on personal expeditions I believe strongly this pack will last for many more years of abuse.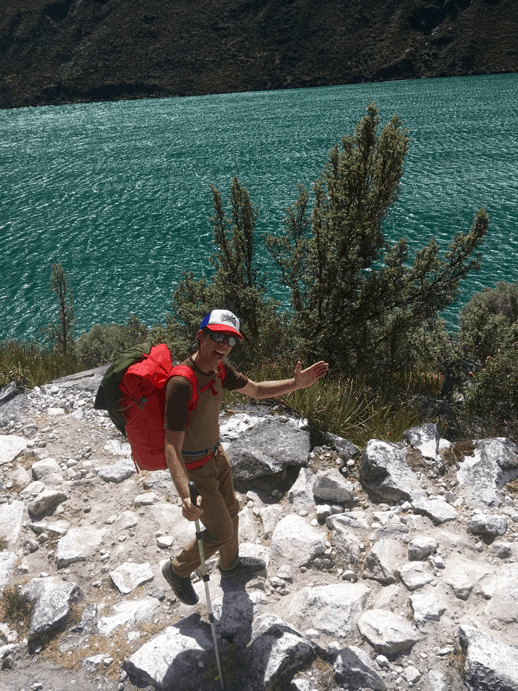 So long from the Cordillera Blanca. Photo: Paul Barish
Check out all of the Exped Alpine Packs at Pro Ski & Mountain Service
"