The New Marker Kingpin Binding
by Martin Volken
Update: Pre order your Kingpins today for the upcoming 2015/16 season with Pro Ski and Mountain Service. Call us at 425-888-6397 and reserve your pair. This is the most highly anticipated product of the 2015/16 ski season and it will sell out before the snow flies. Don't miss out again this year!
I just returned from a trip to Nevado de Chillan where Marker had invited Pro Ski and Mountain Service of North Bend to an exclusive launch of the hotly awaited Marker Kingpin Binding.
The event was impeccably organized and it gave me an opportunity to test the binding for four days in pretty firm conditions. This is important to note, since these are the conditions that tend to bring out the weaknesses of "traditional" tech bindings.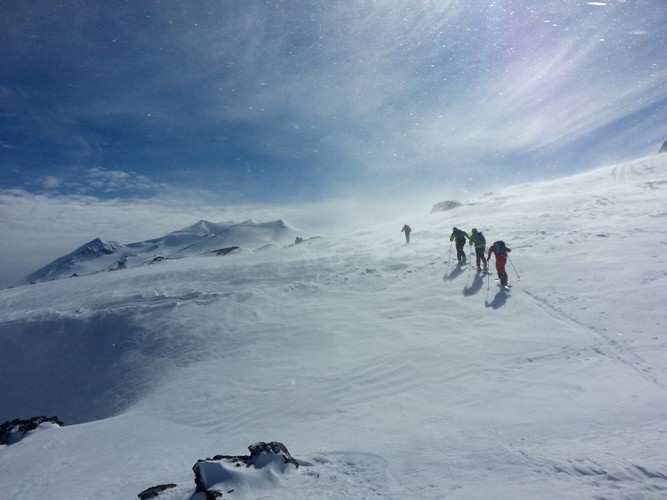 Here are a couple commonly stated drawbacks of tech bindings.
Weaker power transfer. This has to do with the fact that the heelpiece pins engage fairly close to the center of the boot and obviously engage on a small surface area. Most of the tech bindings feature a rotating heel, which can create more loss of power in hard and rough conditions.
The majority of the tech bindings do not feature a forward pressure spring (The Fritschi Vipec has this feature as do some of the newer Dynafit models). This spring is different from the release spring and assures constant distance between toe and heelpiece, even when the ski gets bent in a forward rotating fall. You cannot assure a reasonable degree of constant release values without the forward pressure spring.
Refinement
First off let me say this; the Kingpin the far and away the most refined touring binding product I have seen at launch. This includes past ski touring products based on plate binding or pin technology.
Power
Markers' Kingpin is effectively a cool hybrid between the Marker Tour heel and a traditional Tech toe. Seems easy enough… Well. It took several engineers who know what they are talking about over three years to go from concept to retail product. The result is a relatively light (730 grams including the brake and the screws), very convenient to use, safe and extremely powerful tech binding.
The secret to the impeccable power transfer lies close at hand. It is the heel. The heelpiece of the binding grabs the heel cup of the boot at a width of 60 millimeters and delivers constant downward pressure. It is nearly impossible to get this kind of power out of a traditional tech heel system.
The toe piece features six springs instead of the four traditional springs that Dynafit bindings offer. This delivers according to them a bit more lateral stability in the toe piece. In fairness, it also adds a little more weight.
Safety:
Others have tried and Marker did it. They are the first Pintech binding manufacturer to receive the DIN/ISO standard certification. Should you care?
Well, the German safety testing institute TUV is very strict and a binding that receives this stamp of approval can confidently be called a ski safety binding. Their testing criteria goes far beyond what your average ski shop is able to test for.
The forward pressure feature certainly was instrumental here along with the upward and rotating heel release.
Convenience:
The toe piece offers a very nice little adjustable toe stopper that allows the shop technician to adjust these little stoppers for a specific boot. This results in higher step-in convenience. There is also a flip-lever under the foot that allows you to move the heelpiece forward when you are switching into ski mode. If you are in ski mode, open up the heelpiece, lift up your heel and flip the lever back to move the heelpiece back. This is established technology from their "Marker Tour bindings". Now just step down and the ski brake stays in the "up position".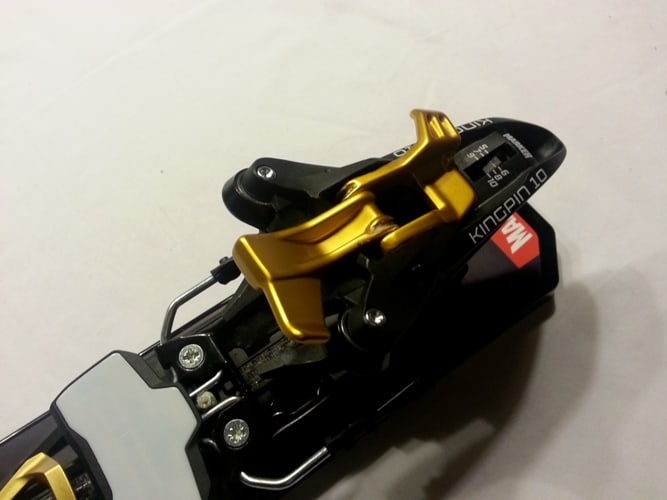 3 heel riser positions; flat, 7 and 13 degrees.
Weight:
The binding comes in at 730 grams including the brake and the screws. It is obviously not the lightest tech binding on the market, but this appears to have been a conscious choice. It allowed them to go with the Tour heel and the more powerful toe piece. According to the Marker guys, the increase in power and safety far outweighs (so to speak) the 150 gram weight penalty. I assume people will discuss this one on many a skin track.
Application Range:
I see the binding as an excellent choice for the everyday ski tourer and ski mountaineers, but also as a good alternative for the person who is simply looking for a safe and powerful ski binding.
Should you jump huge cliffs with it? No. This is where the light heelpiece would find its elasticity limit quite quickly.
Should you sign up for a major Ski–Mo Race with this binding? Well, no – there are much lighter choices for that.
Price:
The DIN 10 binding will be offered at $599.95 with the brake.
The DIN 13 binding will be offered at $649.95 with the brake.
Availability and where to buy:
Last year the release was limited and we are proud to say that Pro Ski and Mountain Service (proskiserivce.com) was one of a very limited number of shops that were able to launch this binding for Marker. Availability was limited to 500 pr last year and it was sold out nationwide in October- the bindings didn't deliver to the shop untill November! This product has connected with the backcountry skiing community as a game changing tool in the gear closet. So please give us a call if you want to reserve a binding for yourself (425 888 6397) we are now taking preorders for September 2015 delivery.
I am usually fairly cautious in recommending a brand new product, but after having skied and toured on this binding for many days, I am fairly confident that this product is solid. The VIP event in Chile went on for three weeks (different people from all over the world every week) and this event alone produced over 300 touring days without one single binding failure. There was a toe pin issue in the first 100 production pair but marker activley produced a fix and facilitated a replacement process that was reletivley quick and easy. To this point no other issues have surfaced.
"